On Call Design
Starting at $65 per hour.
2 hour, 4 hour, 6 hour appointment blocks available
With On Call Design, I will be your virtual personal design shopper for the day. After we chat over the phone, you will send pictures and measurements of the areas you will be shopping for so I can get a feeling for your space, your style, and your design needs. We will schedule a time block of time that you will be heading out to shop and I will be on call to field questions about pieces you find while you are out shopping. We will communicate back and forth via text, with photos, videos, or even Facetime. It will be just like I am right there beside you talking through any on the spot design options and decisions.
On Call Design Package Pricing Guide
Simple pricing for great design.
Design Process
Consultation

Send Photos, Measurements, & Inspiration

Schedule Your Time

We Text & Video Chat
Frequently Asked Questions
How do we use my block of time?
You will book a 2, 4 or 6 hour block of time that you will need me while you are out shopping. We will not be on the phone or video the entire 2, 4 or 6 hours, but rather I will be available to you as you are shopping and find items and have questions. You may shop one store or multiple stores. As long as it's in your   block of time, you can text, video message me or FaceTime me to get advice, opinions and design rationale.
I will be scheduled to be "on call" for you during your block of time. If possible, book your time block when you will begin shopping. If you travel to another store during our schedule block of time, that will count toward your 2, 4 or 6 hour window.
What happens if we go over my block of time?
If I am available past our scheduled time frame block, we can keep shopping together virtually and you will be billed at a rate of $65 per hour.
How do I share or communicate with you during our scheduled time?
We can text photos or videos back and forth or use FaceTime where it is available.
How quickly will you respond?
You are my client appointment for that time block and I will respond as quickly as I can, knowing that you are in the store and needing to make timely decisions.
How will you know if it works or not?
Before you go shopping, you will have sent me photos of your space, your inspiration, measurements and we will have chatted. I will have a great idea of your style and what you are looking for before you ever step foot in a store.
What all can I ask you about?
Really anything design related, whether you are looking for some new decor accents at the neighborhood shop or you are at the tile showroom and anything in between.
Project Inquiry
Before we get started
It's important that I get a good understanding of your project goals. If you would like to talk further about your design needs, I encourage you to fill out the short questionnaire below. 
Thank you.
ADDITIONAL INTERIOR DESIGN SERVICES
Big design help for any size project.
E-DESIGN SERVICES
Whether you are a client that is local or long distance, the E-Design Service is a great option if you would like a professionally designed space, but prefer to implement the design plan on your own.
FULL DESIGN SERVICE
Whether you're looking for help with a single room makeover, a remodeling project, a complete home renovation, or starting new build construction, Living Solutions' Full-Service Design covers it all.
STYLING SERVICES
Is your home in need of a style refresh?
I'll bring new life to your existing space by reworking your existing furniture and choosing artwork, pillows, and accessories that will make your home feel brand new.

MOVE IN SERVICES
There is nothing easy about moving, but the Moving Day Service helps alleviate some of the stress of moving day and lends an extra set of hands to make sure your first day at your new home is comfortable.
FEATURED CLIENTS
Design where life counts.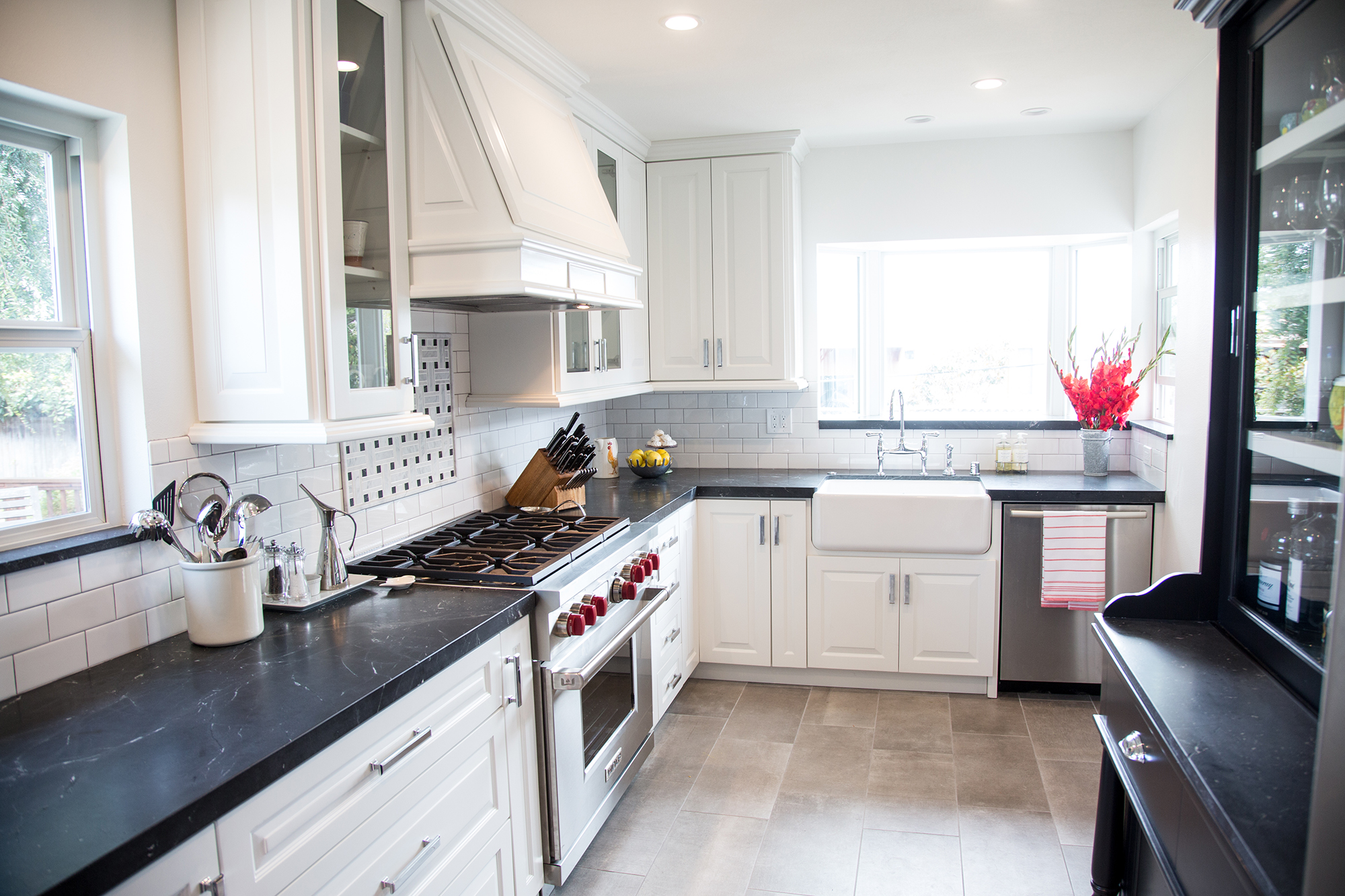 Traditional Kitchen
---
This client's galley kitchen needed better function and a refreshed look. We worked together with the contractor and cabinet maker on many occasions to be sure every detail was resolved and the design was exactly what the client was envisioning. The specially made china hutch was designed from inspiration photos the client had and it was made to look like a stand-alone piece of furniture. All of the design details from the custom cabinetry to the soapstone counters to the detailed backsplash tile design really made this kitchen a completely custom space. Every detail was thought out for this project and it reflected the client's style and the function they needed.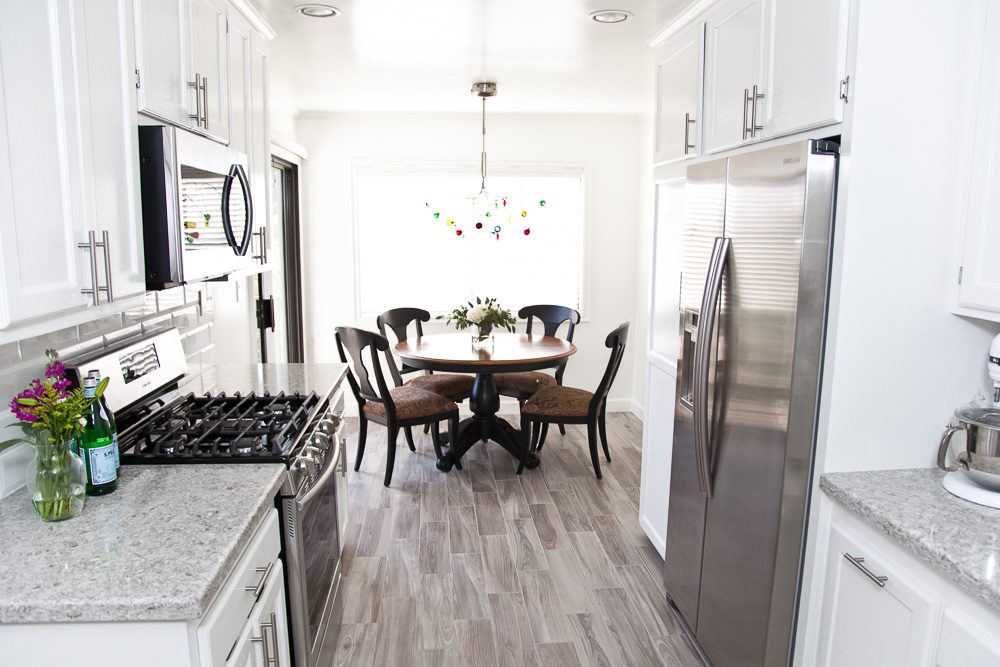 Sleek & Sophisticated
---
This kitchen was in need of an update but the clients did not want to invest in a total kitchen renovation. We had an overall budget for the entire home remodel, which included the kitchen, three bathrooms and new flooring, so smart planning and product selection was necessary to be sure we had the most design impact while being mindful of the budget. The existing cabinets were painted inside and out, and new wood plank tile was carried through the kitchen, breakfast nook and adjacent dining room. The walls got a fresh coat of paint, and new cabinet hardware, an oversized beveled subway tile for the backsplash, and new quartz counters gave this kitchen a completely new look and feel.
Modern Traditional Dining
---
This client was finishing a full home renovation and was in need of all new furnishings. We started working together to complete the space with all the furnishings, art work, area rugs, accessories and custom window treatments. These clients had a strict deadline and we were able to work together for a few months to complete their entire space. We were able to find a great window treatment solution for some tricky windows that maximized their incredible views, while at the same time solved for issues of glare and heat. This project was the first of many design projects with this client and their family.
Subscribe to my design tips.